BLB&G Hosts "Asset Recovery for Institutional Investors" Seminar in London
January 16, 2020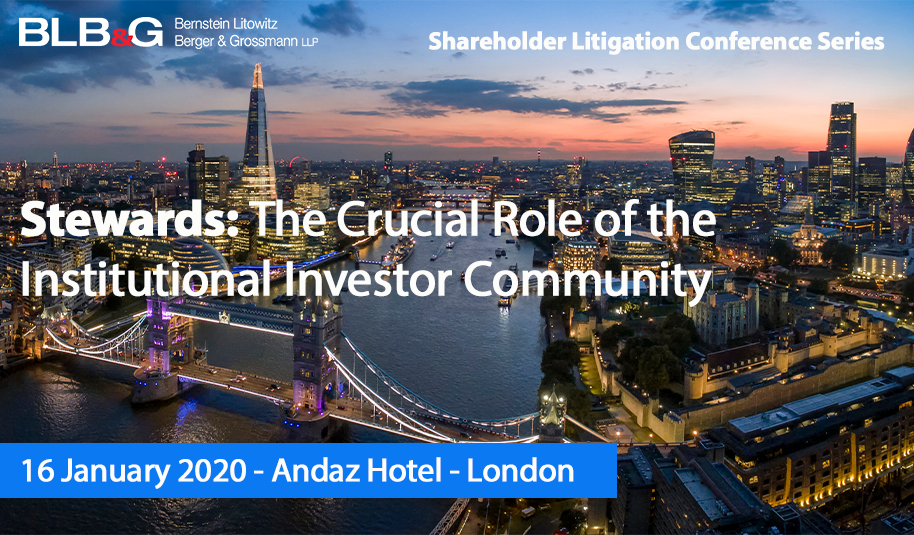 On January 16, 2020, BLB&G will host a one-day educational seminar about shareholder litigation for senior legal personnel from institutional investors in the United Kingdom.
Using case studies and practical examples, the program will provide greater insight into:
The uses of shareholder litigation for maximizing the recovery of losses due to securities fraud and misrepresentations in prospectuses
Improving governance at portfolio companies
Holding misbehaving senior management and boards of directors accountable to their shareholders
What To Expect:
Representatives from leading institutional investors and an opportunity to expand your network of sophisticated peers at other funds
Presentations and interactive Q&A sessions
The opportunity to obtain substantive knowledge to assist in making critical decisions affecting funds
Registration is complimentary for institutional investors. As space is limited, we recommend registering as soon as possible by
clicking this registration link
or by sending an email to events@blbglaw.com.
For more information, please contact Jeroen van Kwawegen at jeroen@blbglaw.com, or Anatoli van der Krans at anatoli@blbglaw.com.
Where:
Andaz Hotel
Bishopsgate & Chancery
40 Liverpool Street
London
Time and agenda to be announced.
Contact:
Anatoli Van der Krans
Bernstein Litowitz Berger & Grossmann LLP
+31(0)20 301 2231
anatoli@blbglaw.com