April 17, 2023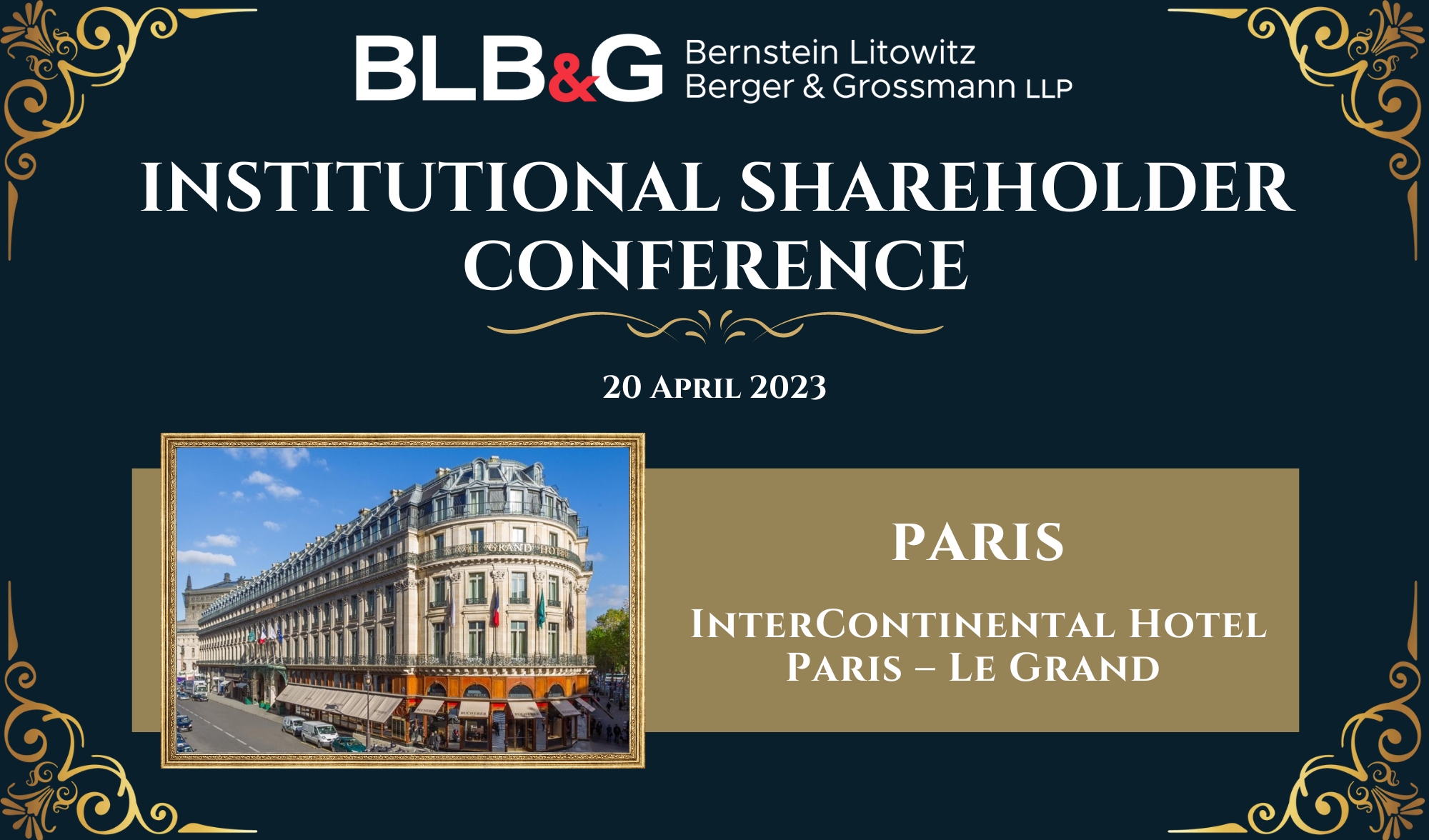 On April 20, 2023, BLB&G is bringing its Institutional Shareholder Conference to the City of Light. This year's event will focus on exploring the implications of ESG for institutional shareholders in a rapidly evolving landscape. The importance of ESG for institutional investors and the companies they invest in is not new, but its significance continues to grow as today's environmental, social, and governance issues face unprecedented challenges. The exclusive one-day conference will feature numerous discussions with prominent legal minds, as well as a speech by keynote speaker Dr. Zeno Leoni of King's College London and ITSS Verona.
Attendees, speakers, and hosts will engage in a variety of ESG topics related to investment decisions and implications in Europe and the United States, such as:
Developments in Recent Banking Collapses
Shareholder Litigation Used as a Tool to Protect and Promote Investor Interests in the U.S.
The Evolving Role of Sustainability and ESG Considerations in Guiding Corporate Action
Active Ownership: Engagement, Voting Rights, and ESG Litigation
Greenwashing – Is This New Trend Misleading Investors?
Developments in Non-U.S. Shareholder Litigation
Sustainability and ESG Considerations' Influence on Funds' Actions
Investors' Options to Maximize the Financial Recovery
Institutional Investor Roundup.
Led by Jeroen van Kwawegen, Anatoli van der Krans, and Hans Ek, BLB&G's annual shareholder conference will bring together a community of representatives from leading institutional investors including investment companies, asset managers, mutual funds, trustee banks, sovereign wealth funds, public pension funds, corporate pension funds, and custodian banks. The conference will provide opportunities for attendees to learn, converse, and meet with peer leaders to discuss emerging issues in ESG and other developing topics that impact institutional investors and shareholder litigation.
When:
April 20, 2023
8:30 AM - 6:00 PM CEST
Where:
InterContinental Hotel Paris – Le Grand | 2 Rue Scribe, 75009 Paris, France
Contact:
Anatoli Van der Krans
Bernstein Litowitz Berger & Grossmann LLP
+31(0)20 301 2231
anatoli@blbglaw.com