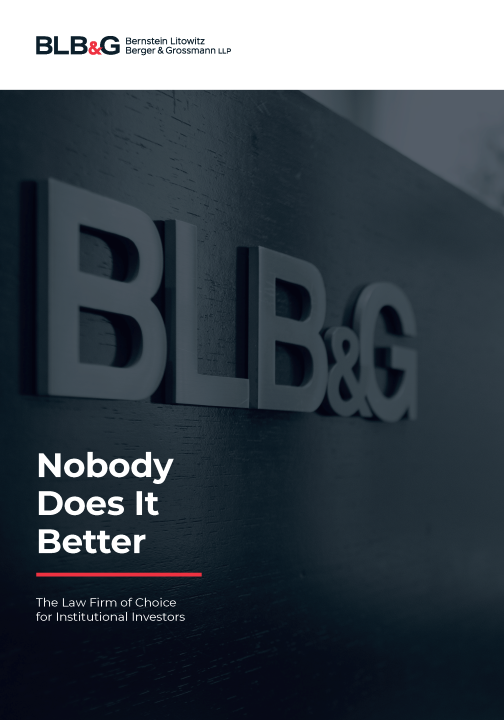 Firm Overview
Bernstein Litowitz Berger & Grossmann LLP ("BLB&G") prosecutes class and private actions on behalf of individual and institutional clients. Since our founding in 1983, we have obtained many of the largest monetary recoveries in history – over $33 billion on behalf of investors. Working with our clients, we have also used the litigation process to achieve precedent-setting reforms which have increased market transparency, held wrongdoers accountable and improved corporate business practices in groundbreaking ways.
As a result of our accomplishments, the firm and our attorneys have been the subject of feature coverage in The Wall Street Journal, BusinessWeek, The New York Times, Bloomberg, Reuters, The American Lawyer, and The National Law Journal, among other outlets. Our lawyers are also frequent commentators for the business and legal media in their areas of expertise.
BLB&G is widely recognized as a leading law firm worldwide advising institutional investors on issues related to corporate governance, shareholder rights, and securities litigation. We have also prosecuted some of the most significant employment discrimination, civil rights, and consumer protection cases on record. The firm has advanced novel and beneficial principles by developing important new law in the areas in which we litigate.
A distinguished group of trial-tested litigators, BLB&G has repeatedly and consistently earned high praise from courts across the nation, as well as the respect of the defense firms and insurance carriers whom we face in court and across the negotiating table.
Our Commitment to Diversity, Equity & Inclusion
Diversity, equity, and inclusion ("DEI") are foundational principles of our firm, and we are deeply committed to maintaining a diverse workplace and hiring, retaining, and promoting diverse lawyers and staff members. The firm implements its commitment to DEI through our Executive Committee and Diversity Committee, which consists of a diverse mix of lawyers and staff and is led by senior partner Hannah Ross. The firm recognizes that we all benefit from a working environment that mirrors our diverse society and draws on the backgrounds and experiences of individuals from differing cultures, perspectives, experiences, and beliefs.
In support of our ongoing diversity initiatives, the Diversity Committee hosts educational programs and events centered around training, social and cultural awareness, and mentorship, and sponsors a number of external DEI initiatives. Highlights include:
The Bernstein Litowitz Berger & Grossmann Public Interest Law Fellowship, Columbia Law School: In support of the firm's commitment to fighting discrimination and effecting positive social change, BLB&G created this Fellowship, which provides Fellows with 100% of the funding needed to make payments on their law school tuition loans so long as such graduates remain in the public interest law field.
Beyond #MeToo: Comprised of diversity-inclusion experts, litigators, and academics, this interdisciplinary group was co-founded by BLB&G partner Rebecca Boon and associate Alla Zayenchik, among others, and is dedicated to understanding the root causes of workplace harassment, discrimination, and misconduct and making corporate America a better and more inclusive place for all of us to work. More information about the group is available here.
The BLB&G Women's Forum: This online networking group for women leaders in pension funds and other institutional investors around the world was created in early 2020 to enable community members to connect and share ideas and solutions. The Forum has held a number of virtual events, including most recently a panel discussion focused on best practices for organizations seeking to promote diversity and inclusion.
Education and Awareness: One of the firm's objectives is to increase diversity among BLB&G attorneys and in the plaintiffs' bar as a whole. To that end, we have implemented educational and marketing activities in partnership with diverse student associations at prominent law schools in the New York area, and regularly host Lunch & Learns internally at the firm to educate and raise awareness.
Mentoring and Professional Development Programs: The firm maintains an active attorney mentoring program to support our attorneys as they cultivate key relationships, navigate the firm, and advance their legal careers. The goal is to ensure that attorneys at all experience levels receive opportunities to participate in communications with clients, to question witnesses at depositions and at trial, to argue pretrial motions in court, and to participate in settlement negotiations. The firm also dedicates significant resources to various professional development programs and initiatives to empower all attorneys and staff with the skills and training required to build successful careers and serve our clients. Programs are open to all, but focused attention is paid to supporting and mentoring our female and diverse attorneys in navigating the specific challenges they face.
Matching Donation Program: The firm provides dollar-for-dollar matching contributions for employee contributions to recognized 501(c)(3) tax-exempt organizations focused on initiatives related to social justice, diversity and legal aid.