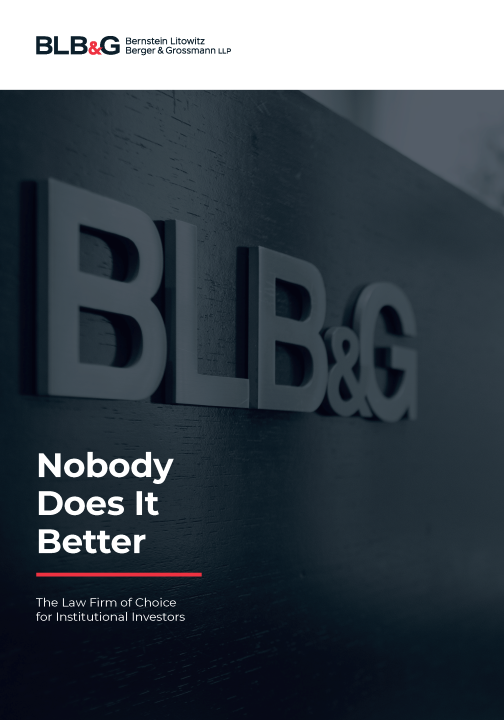 Firm Overview
Bernstein Litowitz Berger & Grossmann LLP ("BLB&G") prosecutes class and private actions on behalf of individual and institutional clients. Since our founding in 1983, we have obtained many of the largest monetary recoveries in history – nearly $40 billion on behalf of investors. Working with our clients, we have also used the litigation process to achieve precedent-setting reforms which have increased market transparency, held wrongdoers accountable and improved corporate business practices in groundbreaking ways.
As a result of our accomplishments, the firm and our attorneys have been the subject of feature coverage in The Wall Street Journal, BusinessWeek, The New York Times, Bloomberg, Reuters, The American Lawyer, and The National Law Journal, among other outlets. Our lawyers are also frequent commentators for the business and legal media in their areas of expertise.
BLB&G is widely recognized as a leading law firm worldwide advising institutional investors on issues related to corporate governance, shareholder rights, and securities litigation. We have also prosecuted some of the most significant employment discrimination, civil rights, and consumer protection cases on record. The firm has advanced novel and beneficial principles by developing important new law in the areas in which we litigate.
A distinguished group of trial-tested litigators, BLB&G has repeatedly and consistently earned high praise from courts across the nation, as well as the respect of the defense firms and insurance carriers whom we face in court and across the negotiating table.
Diversity, equity, and inclusion ("DEI") are foundational principles of our firm, and we are deeply committed to maintaining a diverse workplace and hiring, retaining, and promoting diverse lawyers and staff members. We encourage you to visit our DEI web page here to learn more.