Lawdragon Names BLB&G Partners to the 2022 Edition of the "500 Leading Plaintiff Financial Lawyers" List
July 11, 2022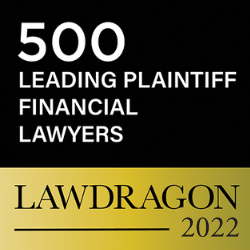 Lawdragon has named 24 BLB&G attorneys to its 2022 list of "500 Leading Plaintiff Financial Lawyers" in America and describes them as being "on the front lines for investors who've lost millions." Those BLB&G Partners who have been honored include Abe Alexander, Max Berger, Michael Blatchley, Rebecca Boon, John Browne, Scott Foglietta, Salvatore Graziano, James Harrod, Adam Hollander, Jesse Jensen, Avi Josefson, Mark Lebovitch, Lauren Ormsbee, Christopher Orrico, John Rizio-Hamilton, Jeremy Robinson, Hannah Ross, Gerald Silk, Katherine Sinderson, Edward Timlin, Jonathan Uslaner, Jeroen van Kwawegen, Gregory Varallo, and Adam Wierzbowski.
The list recognizes standout attorneys specializing in representing plaintiffs in securities and other business litigation, antitrust, and whistleblower claims.
External Link (link will open in a new window):
Click here to read the full guide.