Lawdragon Names BLB&G Partners to the 2023 Edition of the "500 Leading Plaintiff Financial Lawyers" List
May 26, 2023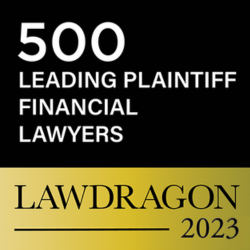 Continuing the firm's banner year, Lawdragon has named 22 BLB&G partners to its 2023 list of the "500 Leading Plaintiff Financial Lawyers" in America. The attorneys honored include Abe Alexander, Max Berger, Michael Blatchley, Rebecca Boon, Scott Foglietta, Salvatore Graziano, James Harrod, Jesse L. Jensen, Avi Josefson, Lauren Ormsbee, John Rizio-Hamilton, Jeremy Robinson, Hannah Ross, Gerald Silk, Katherine Sinderson, Ed Timlin, Jonathan Uslaner, Jeroen van Kwawegen, Gregory Varallo, and Adam Wierzbowski, and former BLB&G partners John C. Browne and Mark Lebovitch. Congratulations to each of the honorees!
The list recognizes standout attorneys specializing in representing plaintiffs in securities and other business litigation, antitrust, and whistleblower claims. According to the publication, "this remarkable group of lawyers puts it all on the line with courage and clout that matches their defense counterparts in securities and other financial litigation; the booming antitrust field; whistleblowing claims; data privacy and so much more."
External Link (link will open in a new window):
To read the full list, click here.