September 2019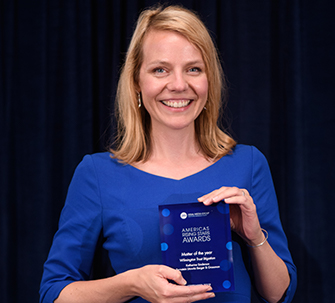 Earlier this year Legal Media Group, publisher of Euromoney and Institutional Investor Magazine, shortlisted Katie Sinderson as a finalist for two major "Americas Rising Stars" awards – "Best in Litigation: Securities" (lawyers under the age of 40 as of October 1, 2019) and "Matter of the Year" for her work in the Wilmington Trust case.
On September 12, 2019, Legal Media Group's second annual "Americas Rising Stars" awards dinner was held at The Pierre Hotel in New York City. Katie was the winner of the "Matter of the Year" honor for her role as a senior member of the team which obtained a $210 million recovery in the securities litigation on behalf of a class of investors in Wilmington Trust Corporation.
Representing the firm's institutional investor clients in securities class action litigation, Katie has played a key role in many of the firm's largest cases in its history, having recovered billions of dollars on behalf of investors. Among her most significant matters, she was a member of the trial teams in In re Merck Securities Litigation, which resulted a in $1.062 billion settlement; and In re Bank of America Securities Litigation, which resulted in a recovery of $2.425 billion, two of the largest shareholder recoveries in history.