Benchmark Again Names Four BLB&G Partners to Its "Under 40 Hot List"
August 1, 2017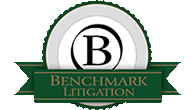 Benchmark Litigation has once again named BLB&G partners Michael Blatchley, Katherine Sinderson, Jonathan Uslaner and Adam Wierzbowski to the second annual edition of its "Under 40 Hot List." This recognition honors the achievements of legal partners aged 40 or younger "deemed the most promising emerging talent in their respective litigation communities" by both peers and clients.
Benchmark Litigation is compiled by the publishers of leading financial news magazines Institutional Investor and Euromoney and identifies the leading U.S. trial attorneys and firms at the local and national levels. Focused exclusively on the U.S. litigation market, the publication's rankings and editorials are the result of extensive interviews with private practice lawyers and in-house counsel.
External Link: Click here to read full profile (link will open in a new window)