May 2020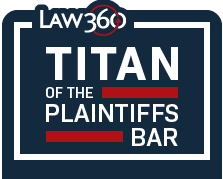 BLB&G Partner Katie Sinderson was selected for Law360's 2020 "Titans of the Plaintiffs Bar" list of the most as influential plaintiffs lawyers, one of only 10 attorneys nationwide to be so honored. Law360 highlighted Katie's work representing investors in the suit against Boeing over its rollout of the 737 Max, and her work as a champion of gender equality throughout the industry. Click here to view the full list and here to view Katie's profile on Law360.
External Link (link will open in a new window):
Click here to read the full article.