April 2019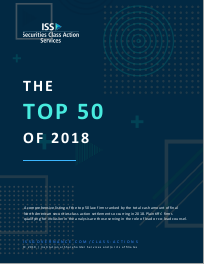 According to data compiled by ISS Securities Class Action Services (SCAS) in its "Top 50 of 2018" report (released April 25, 2019), BLB&G once again finds itself listed among the top firms in the nation, having recovered over $1.3 billion for investors and achieving 3 of the top 5 recoveries in 2018.
BLB&G has been at or near the top of the rankings - often with the highest total recoveries, the highest settlement average, or both, every year since the list's inception.
SCAS's "Top 50" publication follows on the heels of its recent release of the "Top 100 U.S. Class Action Settlements of All-Time" report – a compilation of the 100 largest securities recoveries in history in which BLB&G is once again alone at the top of the industry. Having served as lead or co-lead counsel in 35 of the top 100 U.S. securities fraud settlements, BLB&G has helped recover over $25 billion for investors. This represents nearly 40% of all the settlement dollars in the report - billions more than our nearest competitor. BLB&G also continues to increase its dominance of the field, as three new 2018 cases added to the list were recoveries by BLB&G — Wells Fargo & Company ($480 million), Allergan, Inc. ($250 million), and Wilmington Trust Corp. ($210 million).
External Link (link will open in a new window):
Click here for full report.