Save the Date! Forum for Institutional Investors: Protecting Shareholder Rights; New Orleans, LA — April 10-13, 2019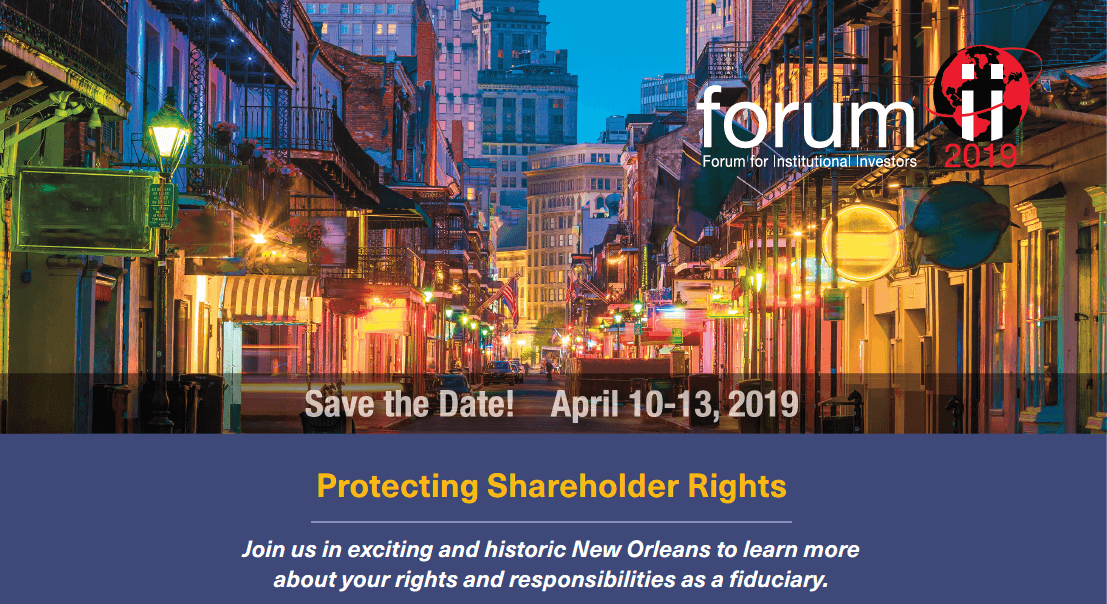 PROTECTING SHAREHOLDER RIGHTS
We invite administrators, trustees, directors, general counsels and other leaders of the institutional investor community to join us for our 2019 Forum. Our seminar will feature expert analysis and panel discussions on a variety of topics relevant to fiduciaries, including:
The critical role of the institutional investor community and shareholder litigation in preserving the integrity and transparency of our capital markets
Regulatory and market challenges to investor rights
Best practices for executives and general counsels of pension funds and institutional investors
Developments since Morrison — a comprehensive look at the landscape of shareholder litigation outside the US

For more information, please contact Amanda Rekemeier, Director of Client Relations,
at amanda@blbglaw.com or at (212) 554-1451 with any questions.

ABOUT THE VENUES

The National WWII Museum will host educational portions of the Forum. Located in New Orleans' historic Warehouse District, the museum tells the story of the American experience in the war that changed the world.
Additional sessions will be held in New Orleans' renowned French Quarter.
*******
PAYMENT INFORMATION
The registration fee for this seminar is $625 per person.
The registration fee is intended to cover meals and entertainment in conformity with many jurisdictions' gift/gratuity limitations or restrictions, and represents our best estimate at the pre-event stage. If you are not governed by these restrictions, you may choose the "Registration fee waiver" option provided on the online registration form.

For qualified institutional investors from the United Kingdom and Europe, the registration is automatically waived unless required by your jurisdiction.
Please make checks payable to "Bernstein Litowitz Berger & Grossmann LLP," and mail to:

Dalia El-Newehy
Bernstein Litowitz Berger & Grossmann LLP
1251 Avenue of the Americas
44th Floor
New York, NY 10020

ACCOMMODATIONS:
BLB&G has reserved blocks of rooms at two nearby hotels:
********
Hotel Indigo (877-394-5763)
Block code: BLB
April 10-11: $149 per night
April 12: $159 per night
Click here to reserve a room online.
King or queen rooms available.
********
Hampton Inn – Garden District (504-899-9990)
Block code: BLB
Rates:
April 10-11: $159 night
April 12: $179 per night
King or double rooms available.