Master Limited Partnerships Crossroads and Conflicts - A Discussion about Past, Present and Future Legal and Financial Issues Facing Master
November 4, 2014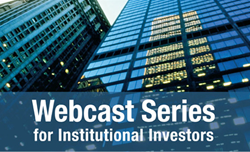 The usage of Master Limited Partnerships (MLPs) as a capital structure, particularly in the energy industry, has never been more popular.  However, concerns about the model persist.  Public investors who participate in MLPs as limited partners (LPs) frequently agree to partnership agreements that forfeit significant protections that could permit the general partner (GP) to take self-interested actions that would not be as easily done with a traditional public company structure.  Recent developments and transactions have also raised some questions about the long-term economic viability of the MLP model. 
This webcast featured a distinguished panel of experts that discussed the evolution of MLPs, how courts have been interpreting legal challenges to MLP transactions, and the future of MLP entities and related litigation.  The panelists included:
The Honorable John W. Noble, Vice Chancellor - Delaware Court of Chancery
Julie Hilt Hannink, Vice President, Energy Sector Lead - CFRA Research
Srinivas M. Raju, Director - Richards, Layton & Finger, P.A.
Mark Lebovitch, Partner - Bernstein Litowitz Berger & Grossmann LLP 
Click here to view the recorded event.