May 30, 2018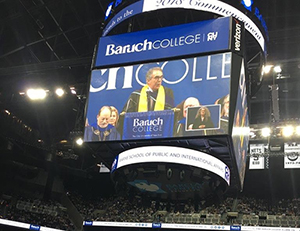 BLB&G's founding partner Max Berger (a proud alumnus and President of the Board of the Baruch College Fund) delivered CUNY's Baruch College commencement address to over 5000 graduates and their families at the Barclays Center in Brooklyn, NY.
In his speech, Mr. Berger recalled how as a Baruch student and Vice President of the Student Council 50 years ago, he and his colleagues successfully mobilized the student body, alumni and faculty, and defeated a proposal to convert Baruch into a two-year upper-division business school. As a result of their efforts, the Board of Education preserved the school as an autonomous four-year public college that still serves the New York City community today.
Mr. Berger's heartfelt and personal address emphasized the importance of public education in giving the majority of citizens the ability to achieve success. He recognized that Baruch College – with one of the most diverse student bodies of any college in the nation – is today the "brightest star in the City University System, serving thousands upon thousands of upwardly mobile children of immigrants and working-class families with an outstanding four-year college education and graduate school."
In congratulating the Class of 2018, Mr. Berger extolled the students as "the living embodiment of what is great about our country and our college. That ensures that the children and grandchildren of poverty and privilege all have the opportunity to end up in the same place."
External Link (link will open in a new window):
Please click here to view Baruch College's 50th Anniversary video, featuring excerpts from Mr. Berger's Commencement Address.